Maghammers
The perfect solution for prevention of bulk material handling problems in hoppers, bins, chutes, cyclones, etc. Maghammer is an electronmagnetic hammering device. A piston moves in suspension transferring it'd kenetic energy to the flexible structure of the hoppers, bins, chutes, cyclones, etc.
Maghammers - Nippon magnetics, Inc 
Maghammer are available in four types 
1. Standard Maghammer
2. Piston extended type maghammer
3. Sound proof type maghammer
4. Direct hammering type maghammer.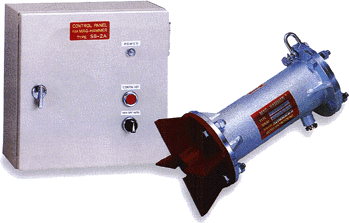 Maghammer - Simple control - Frequency, time, interval & force of impact are adjustable. It operates on AC power. It has low maintenance with sealed unit design. It is independent of compressed air - there are no air lines. It has dependable repeatable operations. It has high durability, a maximum of 5,000,000 impacts (depending on model). 
Maghammer delivers powerful impact performance for complete and steady flow from bins, hoppers, cyclones and transfer lines. It is used in almost all industries such as steel, cement, mining, chemical, food, coke and coal etc. The controller operates on AC240V single phase 50Hz. It is indoor usage and dustproof. The protectioon rate is IP2. It is attached by a wall mount. The impact force can be adjusted from 0% to 100%.